What to expect when you commission me to create an artwork for you.
Commissioning an artist to create an unique piece of art for you, is an exciting and enjoyable experience. It is a wonderful collaborative process between yourself and me the artist.
You can be assured that your ideas will be conveyed the way you wish. The consultations will give you the confidence, that the finished artwork will be a beautiful bespoke piece of art, that you can be very proud of.
We will discuss the commission over 2 consultations, these can be held face-to-face, via the telephone or by email, whichever is the most convenient for you.
I will also send you several updates to show you how your artwork is progressing. I will always keep you fully up-to-date with the progress of your artwork, as it is important to me you feel part of the creative process.
Please find below an idea of what is involved at each consultation.
Consultation 1:
This is the longest of the consultations. It is where we discuss your initial ideas for the artwork which include details as subject matter, colours, size and textures.

We also discuss where your artwork will hang, to get an idea of light and space.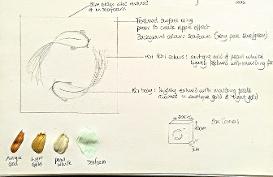 Consultation 2:
Here I will show you any sketches, drafts samples of textures and colours of how I envisage the artwork.
At this stage you are able to swap things around, introduce a few new ideas and change of colours.
Once both parties are in agreement, a deposit will need to be secured (50% of the final cost) in order for the commission to start.
Following communications will include progress photos of the artwork as it starts its creative journey.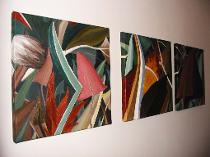 Commission Price List (an approximate guide & does not include postage & packaging):
Artwork size:
10cm x 10cm - £60
15cm x 15cm - £90
20cm x 20cm - £105
30cm x 30cm - £150
40cm x 40cm - £250
50cm x 50cm - £350
60cm x 60cm - £400
70cm x 70cm - £500
100cm x 100cm - £650
Please contact me here to discuss your ideas for a commission piece either for yourself, or as a unique gift for a loved one.
Please have a look at my special gallery page which showcases the different styles I have used for my clients.
I look forward to hearing from you soon.