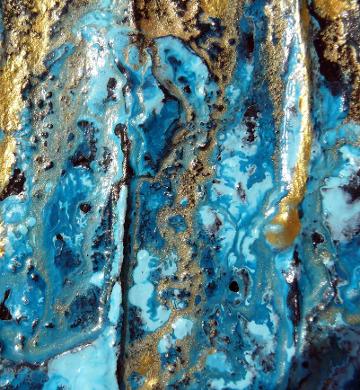 A very warm welcome to my website.
As a mixed media abstract artist, I relish colour and texture. My inspiration often comes from science and nature; anything from flowers and stones to cells or rusty surfaces.
It's always a joy being commissioned to create an artwork for a client. So if you have a specific colour scheme and size in mind, then please feel free to leave your details on my contact page and we can discuss your requirements further.
All my work is original and each piece is provided with a certificate of authenticity. I carefully package each artwork myself; that way I can ensure it will be sent on to its new owner safely and securely.
Thank you for stopping by and viewing my work.
2020 Events Diary

Understandably due to the outbreak of Covid-19, all my fairs and exhibitions which I was due to attend in 2020 have been cancelled.

Instead, why not visit my Virtual Art Fair 2020. Here you will be able to view videos of all my work. To enter the Art Fair, please click here to enter.
Dates not yet cancelled:
7 November - Corsham Christmas Market, Corsham Town Hall, Wiltshire
10am - 4pm
28 November - Winter Festival, Calne Town Hall, Wiltshire
Original artwork by Sandi Sayer, made in Calne, Wiltshire.
All artwork and web design Copyright © of Sandi Sayer 2020.
Any reproduction of the artworks here in any format is an infringement of the copyright law © 2020.